Using your own domain name
Back to Admin

Once you have your Tash site up and running, no doubt you would be considering using your own domain name for it. In this page, you will find information on how this is done. The video below also covers most of the setup procedure.
Setting up your own domain name
First, go to
Domain
section in your admin panel and add the domain you would like to use for your site as shown below.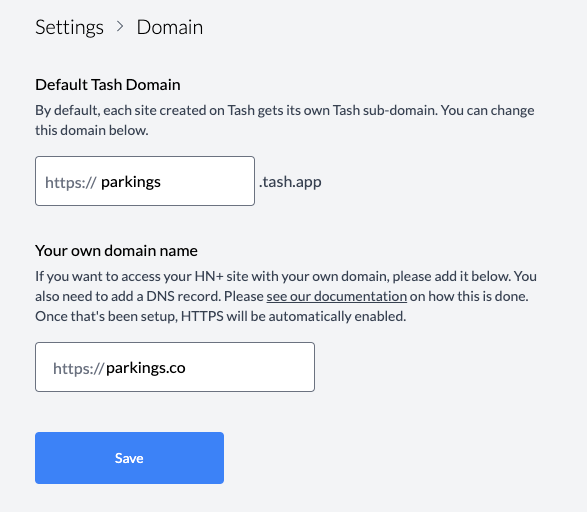 Initially, since you may not have made the necessary DNS changes, you will not see the green checkboxes shown in the image above. That's ok. The instruction is provided below.
Making a DNS change to your domai name
Next, you will need to go to your domain registrar's DNS control panel and add a
CNAME
which allows your domain to point to your Tash site. In this example, we are using CloudFlare as our domain registrar, but it can be any including GoDaddy, NameCheap, NameSilo, Porkbun etc.
As shown in the image below, we add the domain that you want to use in the
Name
field. Note that other registrars may call this differently (e.g. host, source etc). Note that here, we are using
parkings.co
, which is the root domain. If I wanted to use
www.parkings.co
, then I would need to add
www
into the name field. The target field should be
redirect.tash.app
.
That should be it. The above change usually takes several hours and Tash will check continuously in the background to make sure that your domain is pointing correctly to your site.
Frequently Asked Questions
What about HTTPS?
- Tash always uses HTTPS whether you are using your domain or not. Once your domain is pointing to your site correctly, HTTPS will be automatically enabled.
What if I want both www and the root domain to point to my site?
- Our recommendation is that you use
www
as your domain name prefix. However, if you also wish to use the root domain to point to your site, we highly encourage you to add a redirect condition at your domain registrar's DNS level, so that the traffic to your root domain is redirected to www and then forwarded to your site. This is ideal for your site's SEO since you want the same consistent URL to be recognized by the search engines.

Got questions?
Get in touch with us